Recreational Diver 1
Choosing the GUE Recreational 1 you will invest in a unique opportunity to learn from the very beginning all the most effective diving techniques, using the GUE configuration since the first dive. Moreover, you will benefit immediately from the advantages of Nitrox and will learn also basic Rescue techniques!
Max depth: 21m - Gas: Nitrox32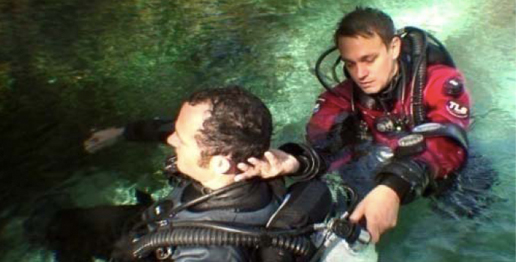 Recreational Diver 2
A highly comprehensive program during which you will refine all the skills learned at the previous level, while developing the navigation techniques and control over deep ascents, also in presence of current, and dealing with all the Rescue scenarios... Definitely a highly exciting class! Max depth: 30m - Gas: Nitrox 32 or Triox 30/30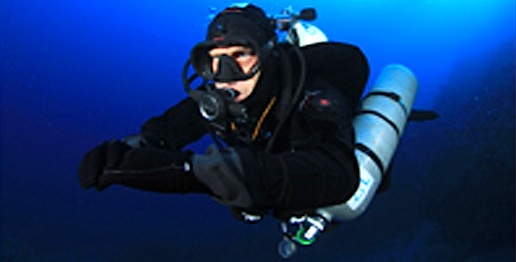 Recreational Diver 3
By far the most advanced recreational program: learning how to manage a decompression cylinder and to respond at best to the most common failures, you can venture to 39m while breathing Trimix to optimize narcosis and perform up to 15 'of accelerated decompression with Nitrox safely! Max depth: 39m - Gas: Trimix 21/35 + Nitrox 32
---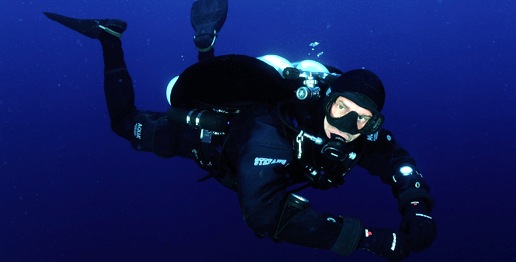 GUE FUNDAMENTALS
The GUE Fundamentals program is not only an excellent opportunity to learn/refine solid aquatic skills, it represents also the key to access the subsequent more challenging Tech and Cave classes. Absolute control of neutral buoyancy and trim, back-kick and the characteristic configuration set-up are just some of the most remarkable peculiarities of this training!
Learn more ›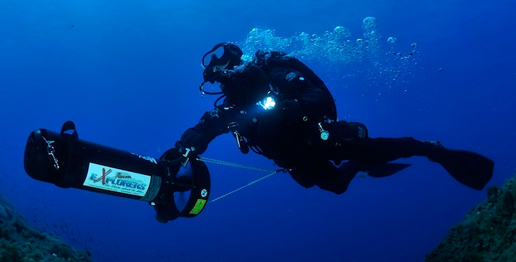 DPV/SCOOTER DIVER
In addition to achieving an appropriate control of the scooter, which is essential to take the best from it safely, the GUE DPV course will teach you how to plan the residual burn time and how to manage main contingencies and the most common failures within the team, like gas-sharing scenario and diver-tow. Exploration and fun in pure GUE style!
---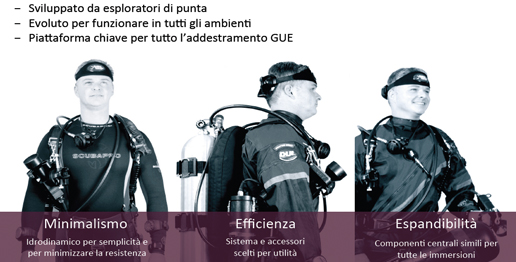 GUE PRIMER
Se ancora non sei convinto dell'efficacia del sistema GUE o non ti senti pronto ad affrontare una vera e propria classe, il programma GUE Primer ti offre la migliore delle opportunità: entrare in acqua e tastarne con mano tutte le funzionalità e i vantaggi, libero dallo stress della certificazione!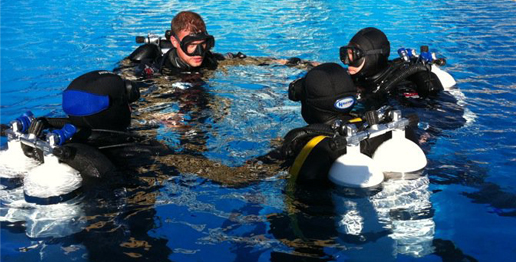 Primer Bibombola
A prescindere che tu abbia già partecipato o meno ad un programma GUE, se desideri approcciare in modo appropriato ai notevoli vantaggi offerti dalla configurazione "bibo" questo programma ti permette di apprenderne tutte le funzionalità in combinazione al solido sistema di immersione GUE!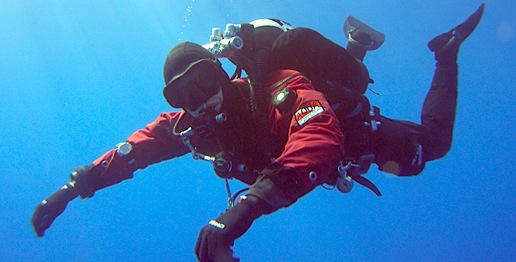 Primer MUTA STAGNA
Il programma Primer - Muta Stagna ti propone un'opportunità unica per imparare a sfruttare al meglio il comfort e le funzionalità della muta stagna, combinando le abilità specifiche richieste per il suo corretto utilizzo con l'affinamento delle tecniche di immersione proprie del sistema GUE!
---
Condividi questa pagina del sito su FB!